Product Description
                                     JS600 Series Grid Coupling
Grid Coupling is widely used in metallurgy, mining, lifting, transportation, petroleum, chemical, ships, textile, light industry, agricultural machinery, printing machines and pumps, fans, compressors, machine tools and other mechanical equipment and industry shaft transmission.
♦Feature
1.The serpentine spring as the elastic element, the elastic strong at the same time, greatly improves the grid coupling torque, widely used in heavy machinery and general    machinery.The serpentine spring special technology department, has long service life, allowing higher speed, has good ability to compensate in the axial, radial and angle
2.High transmission efficiency, start safety. Transmission efficiency of up to 99.47%, short-time overload capacity is 2 times the rated torque, operation safety.
3.Simple structure, convenient assembly and disassembly, long service life
4.Damping effect is good to avoid the resonance.
♦Basic Parameter And Main Dimension
Brake wheel
Diameter×
thickness
E×F
Model
Nominal
Torque
Nm
Speed
r/min
Y,Z Bore
d1,d2
D
L
A
G
P
M
N
W
Clearance (K)
No bore mass
Kg
Max
Min
One-way brake wheel
Two-
way brake wheel
Min
Standard
Max
120×60
JS601
10
4500
28
14
98
52
40
35
95
35
65
62
92
1.5
3
5
0.03
125×70
JS602
35
4500
35
14
110
52
50
35
105
35
70
62
92
1.5
3
5
0.03
140×82
JS603
65
4170
42
14
120
52
55
35
117
35
76
62
92
1.5
3
5
0.06
180×108
JS604
117
3270
48
14
138
62
65
40
148
40
94
62
92
1.5
3
5
0.06
205×90
JS605
207
2870
55
19
155
62
75
45
135
46
90
87
117
1.5
3
5
0.09
255×95
JS606
328
2300
65
19
170
82
90
47
142
48
94.5
87
117
1.5
3
5
0.09
280×128
JS607
630
2080
75
28
195
112
105
60
188
58
124
87
152
1.5
4
6.5
0.17
330×145
JS608
1000
1770
85
28
212
112
125
14
159
109
86.5
87
152
1.5
4
6.5
0.26
405×170
JS609
1800
1430
100
42
248
142
140
16
186
138
101
122
152
1.5
6
10
0.43
485×220
JS610
2800
1200
110
42
274
142
160
-7
213
168
103
147
167
1.5
6
10
0.51
535×250
JS611
4300
1100
125
60
324
142
180
-7
243
200
118
147
167
1.5
6
13
0.74
585×285
JS612
6000
1000
150
70
368
172
220
-25
260
250
84.5
152
182
1.5
6
13
0.91
670×305
JS613
8700
850
180
70
400
172
255
0
300
275
150
152
182
1.5
6
13
1.14
760×305
JS614
12000
765
200
110
458
212
270
0
305
275
152.5
182
182
3
6
13
1.9
765×310
JS615
16000
765
220
120
500
212
305
0
310
275
155
197
197
3
6
13
2.8
♦Product Show
 
♦Other Products List
Transmission Machinery 
Parts Name
Model
Universal Coupling
WS,WSD,WSP
Cardan Shaft
SWC,SWP,SWZ
Tooth Coupling
CL,CLZ,GCLD,GIICL,
GICL,NGCL,GGCL,GCLK
Disc Coupling
JMI,JMIJ,JMII,JMIIJ
High Flexible Coupling
LM
Chain Coupling
GL
Jaw Coupling
LT
Grid Coupling
JS
♦Our Company
HangZhou CHINAMFG Machinery Manufacturing Co., Ltd. is a high-tech enterprise specializing in the design and manufacture of various types of coupling. There are 86 employees in our company, including 2 senior engineers and no fewer than 20 mechanical design and manufacture, heat treatment, welding, and other professionals.
Advanced and reasonable process, complete detection means. Our company actively introduces foreign advanced technology and equipment, on the basis of the condition, we make full use of the advantage and do more research and innovation. Strict to high quality and operate strictly in accordance with the ISO9000 quality certification system standard mode.
Our company supplies different kinds of products. High quality and reasonable price. We stick to the principle of "quality first, service first, continuous improvement and innovation to meet the customers" for the management and "zero defect, zero complaints" as the quality objective. 
♦Our Services
1.Design Services
Our design team has experience in cardan shaft relating to product design and development. If you have any needs for your new product or wish to make further improvements, we are here to offer our support.
2.Product Services
raw materials → Cutting → Forging →Rough machining →Shot blasting →Heat treatment →Testing →Fashioning →Cleaning→ Assembly→Packing→Shipping
3.Samples Procedure
We could develop the sample according to your requirement and amend the sample constantly to meet your need.
4.Research & Development
We usually research the new needs of the market and develop the new model when there is new cars in the market.
5.Quality Control
Every step should be special test by Professional Staff according to the standard of ISO9001 and TS16949.
♦FAQ
Q 1: Are you trading company or manufacturer?
A: We are a professional manufacturer specializing in manufacturing
various series of couplings.
Q 2:Can you do OEM?
Yes, we can. We can do OEM & ODM for all the customers with customized artworks of PDF or AI format.
Q 3:How long is your delivery time?
Generally it is 20-30 days if the goods are not in stock. It is according to quantity.
Q 4: Do you provide samples ? Is it free or extra ?
Yes, we could offer the sample but not for free.Actually we have a very good price principle, when you make the bulk order then cost of sample will be deducted.
Q 5: How long is your warranty?
A: Our Warranty is 12 month under normal circumstance.
Q 6: What is the MOQ?
A:Usually our MOQ is 1pcs.
Q 7: Do you have inspection procedures for coupling ?
A:100% self-inspection before packing.
Q 8: Can I have a visit to your factory before the order?
A: Sure,welcome to visit our factory.
Q 9: What's your payment?
A:1) T/T. 
♦Contact Us
Web: huadingcoupling
Add: No.11 HangZhou Road,Chengnan park,HangZhou City,ZheJiang Province,China
| | |
| --- | --- |
| Standard Or Nonstandard: | Standard |
| Shaft Hole: | 10-32 |
| Torque: | 70-80N.M |
| Bore Diameter: | 19mm |
| Speed: | 10000r/M |
| Structure: | Flexible |
Samples:

US$ 500/Piece

1 Piece(Min.Order)

|
Request Sample
Customization:

Available

|

Customized Request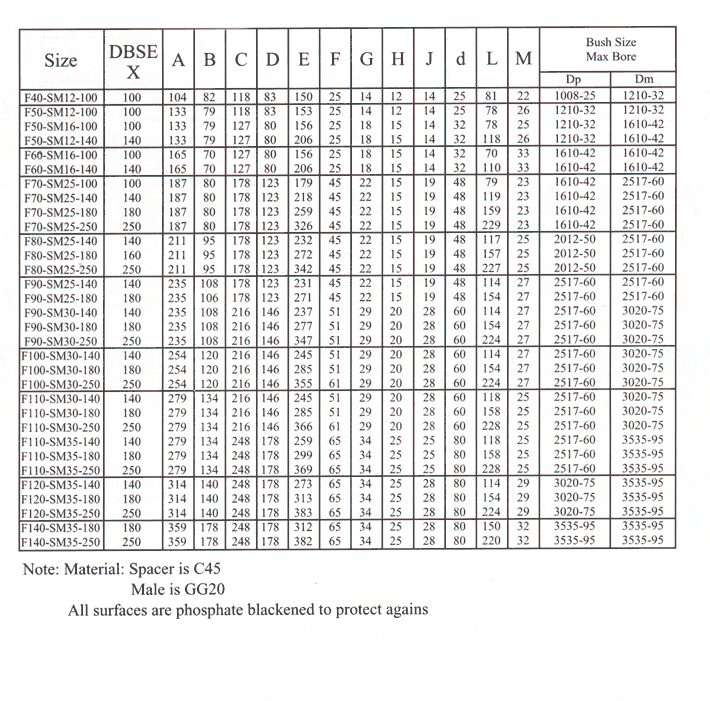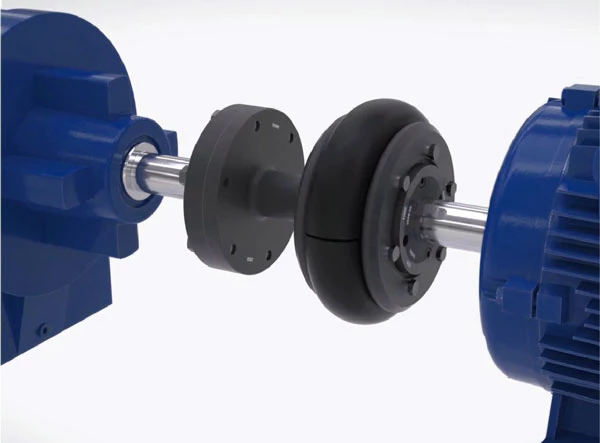 How Does a Spacer Coupling Protect Connected Equipment from Shock Loads and Vibrations?
Spacer couplings play a vital role in protecting connected equipment from shock loads and vibrations in mechanical systems. They act as a buffer between the driving and driven components, absorbing and mitigating the impact of sudden shocks and vibrations. Here's how spacer couplings provide this protection:
1. Dampening Effect: Spacer couplings are designed with flexible elements or materials that possess inherent damping properties. When subjected to shock loads or vibrations, these flexible elements absorb and dissipate the kinetic energy, reducing the impact on the connected equipment. This dampening effect helps prevent damage to delicate components and extends the equipment's lifespan.
2. Misalignment Compensation: In addition to damping, spacer couplings can also accommodate certain degrees of angular, parallel, and axial misalignment between the shafts. When misalignment occurs, the coupling's flexibility allows it to adjust slightly, reducing the transmitted forces to the connected equipment. By minimizing the effects of misalignment, spacer couplings help avoid excessive forces that could lead to shock loads and vibrations.
3. Vibration Isolation: Vibrations can be generated by various sources, including unbalanced loads, motor vibrations, and external factors. Spacer couplings, with their flexible elements, act as vibration isolators, preventing the propagation of vibrations from one shaft to the other. This isolation protects the connected equipment from experiencing detrimental vibrations that may lead to wear, fatigue, or failure.
4. Torsional Stiffness: While spacer couplings offer flexibility to absorb shock loads and vibrations, they also possess adequate torsional stiffness. This property helps maintain shaft alignment and synchronization during normal operation, reducing the risk of additional vibrations caused by misalignment or torsional forces.
5. Material Selection: Spacer couplings are often manufactured from materials with excellent fatigue and shock resistance properties, such as steel or aluminum alloys. The choice of materials ensures that the coupling can withstand repeated shock loads without experiencing premature fatigue or failure.
6. Redundancy and Reliability: In critical applications where shock loads and vibrations are common, some designs incorporate multiple flexible elements or redundancies to enhance the coupling's reliability and capacity to handle extreme conditions.
Overall, spacer couplings are essential components in mechanical systems that require protection against shock loads and vibrations. Their ability to dampen, isolate, and compensate for misalignment helps maintain the health and longevity of connected equipment, ensuring smooth and reliable operation in various industrial settings.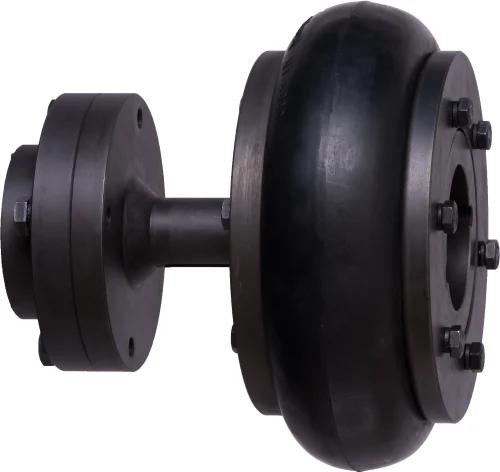 What Industries Commonly Use Spacer Couplings for Power Transmission?
Spacer couplings are widely used in various industries for power transmission due to their versatility and ability to accommodate misalignment between shafts. Some of the industries that commonly use spacer couplings include:
1. Oil and Gas: In the oil and gas industry, spacer couplings are employed in various applications, including pumps, compressors, and turbines. They help transmit power efficiently and reliably in challenging operating conditions.
2. Power Generation: Power plants, including fossil fuel-based, nuclear, and renewable energy plants, utilize spacer couplings to connect shafts in generators, turbines, and other rotating equipment.
3. Chemical Processing: The chemical industry relies on spacer couplings to transfer power in agitators, mixers, pumps, and other processing equipment. The ability to withstand harsh chemical environments makes them suitable for such applications.
4. Mining and Minerals: In mining and mineral processing, spacer couplings are utilized in crushers, conveyors, and other heavy machinery to transfer power between shafts while compensating for misalignment and vibration.
5. Water and Wastewater: In water treatment plants and wastewater facilities, spacer couplings are used in pumps and aerators to ensure efficient power transmission and handle the often challenging environmental conditions.
6. Manufacturing: Various manufacturing industries use spacer couplings in equipment such as extruders, mixers, and printing machinery to transfer power and maintain precision in production processes.
7. Pulp and Paper: The pulp and paper industry utilizes spacer couplings in pulp refiners, digesters, and paper machines, where they help transmit power and accommodate the misalignment that can occur during operation.
8. Marine and Offshore: In marine applications, spacer couplings are used in propulsion systems and various onboard equipment to transfer power effectively and handle dynamic loads at sea.
9. Aerospace: The aerospace industry employs spacer couplings in aircraft engines and auxiliary power units (APUs) to connect rotating components and ensure reliable power transmission.
10. Food and Beverage: The food and beverage industry uses spacer couplings in processing equipment such as mixers, conveyors, and pumps, where they help maintain hygiene standards while transferring power.
Advantages of Using Spacer Couplings in These Industries:
– Spacer couplings can handle high torque and misalignment, enhancing the reliability and efficiency of power transmission systems in diverse applications.
– They provide easy installation and maintenance, reducing downtime and ensuring smooth operations.
– Spacer couplings are available in various sizes, materials, and configurations to suit specific industry needs.
– Their ability to absorb shock loads and dampen vibrations enhances the longevity of connected equipment.
– Spacer couplings are designed to withstand harsh environmental conditions, making them suitable for use in challenging industrial settings.
– They contribute to overall system safety by preventing excessive stress on machinery components.
– In summary, spacer couplings play a crucial role in power transmission across a wide range of industries, contributing to the smooth and efficient operation of machinery and equipment in various applications.



editor by CX 2023-11-21